Good and Evil Wrap Company
The Good and Evil Wrap Company is the unique creation of Tim Gerald who has worked more than 15 years in the culinary industry. Celebrating his 5th year at Cartlandia in March 2018. He has created two types of wraps: one Good - "healthy" and the other Evil - meaning they contain bacon? WHAT?!! we didn't know bacon was evil. No matter the distinction, the wraps are delicious. Locally sourced, made freshly, unique sauces, and very creative names and combinations. And you can have any one as a bowl, not only as a wrap. And in a bowl - they are #Gluten-free. #glutenfree .#vegetarian #vegan #kidsmenu too .And you cannot miss Tim's wordplay as he names a special wrap for each week. Follow him on Facebook or Twitter for these specials (thegoodandevilwrapco). Gift Certificates and Stickers available too. Home delivery also - contact happyvalley.deliverydudes.com or postmates.com and they will bring it to your door! #GetYourWrapOn!
Phone 503-707-4695
SUMMER Hours:
Monday: closed
Tuesday: 11:30-8
Wednesday: 11:30-8
Thursday: 11:30-8
Friday: 11:30-9
Saturday: 11:30-9
Sunday: 11:30-9
web page www.goodandevilwraps.com
Follow Instagram and Facebook for any updates on hours and closures.
*****The Good*****
Sweet Lime Chicken Wrap - Cilantro-lime chicken, spinach, romaine, avocado, tomatoes, onions, cilantro, dried cranberries, cheddar jack cheese, drizzled with a sweet lime vinaigrette $8.50
Rise'n'Grind - Tempeh, scrambled eggs, avocado, goat cheese, spinach, tomatoes, onions, and cilantro $8.25
Apple of My Eye - Chicken, sliced apple, goat cheese, cucumbers, dried cranberries, kale, tomatoes, onions, drizzled with a sweet dijon vinaigrette $8.50
Detox Wrap - Kale, spinach, cucumbers, carrots, onions, tomatoes, green bell pepper, cilantro, goat cheese, drizzled with a mandarin citrus vinaigrette $7.50
Avocado Tempeh Wrap - Tempeh, avocado, tomatoes, cucumbers, onions, romaine lettuce, spinach, goat cheese, drizzled with a refreshing cucumber vinaigrette $8.25
Tofu Wrap - Tofu, romaine lettuce, carrots, tomatoes, onions, cilantro, drizzled with a red curry lime sauce $6.50
Curry Quinoa Wrap - Tofu, quinoa, kale, tomatoes, onions, cilantro, carrots, drizzled with a red curry lime sauce $8.00
Chicken Wrap - Chicken, avocado, tomatoes, onions, cucumbers, goat cheese, dried cranberries, romaine lettuce, drizzled with a sweet dijon vinaigrette $8.50
*****The Evil*****
Breakfast Wrap - Crispy bacon, scrambled eggs, potatoes, sautéed onions & green bell peppers, tomatoes, cheddar jack cheese, with your choice of hot sauce or maple syrup (or both!) $7.75
Rip City Wrap - Blackened steak, crispy bacon, cheddar jack cheese, onions, tomatoes, romaine lettuce, and a Cajun aioli sauce $8.25
Buffalo Chicken Wrap - Grilled buffalo chicken, crispy bacon, tomatoes, onions, celery, romaine lettuce, and blue cheese crumbles $8.00
Pepper Jack Steak Wrap - Grilled steak, crispy bacon, pepper jack cheese, sautéed onions & bell peppers, tomatoes, romaine lettuce, and a jalapeno aioli sauce $8.25
Cajun Chicken Wrap - Cajun chicken, avocado, tomatoes, onions, romaine lettuce, pepper jack cheese, with a Cajun aioli sauce $8.25
Fat Boy Wrap - Grilled steak, crispy bacon, french fries, tomatoes, onions, bell peppers, cheddar jack cheese, and our house made fry sauce $8.25
Black 'n' Blue Steak Wrap - Blackened steak, crispy bacon, blue cheese crumbles, onions, tomatoes, romaine lettuce, and a roasted tomatillo aioli sauce $8.25
Chip Wrecked Wrap - Blackened chicken, crispy bacon, crushed Doritos, cheddar jack cheese, tomatoes, onions, romaine lettuce, and a Cajun aioli sauce $8.25
Wrap Options: White, Wheat, or Spinach tortilla
You can also have any wrap naked in a bowl (*#GlutenFree*)
Make it FAT (sub fries for romaine in your wrap or bowl) $.75
Add Tempeh or Tofu.................$1.50
Add Bacon.....................................$1.00
*****Other Items*****
Quinoa Salad - Quinoa, spinach, dried cranberries, onions, tomatoes, sweet dijon vinaigrette, topped with sliced avocado $3.75
(+ $2.00 to add chicken or steak, + $1.50 to add tempeh or tofu , + $1.00 to add bacon)
Chips..............................................$1.00
Fried Kale Chips......................$2.00
Chocolate Chip Cookie........$1.00
Soda.................................................$1.00
Bottled Water............................$1.00
*****For the Kiddos******
PBB&J Pocket - Creamy peanut butter, sliced bananas, and strawberry jam on a tortilla folded into an easy to eat pocket $3.00
Cheese Pocket - Cheese melted on a tortilla and folded into an easy to eat pocket $2.00
Bacon & Cheese Pocket - Crispy bacon and cheddar jack cheese melted on a tortilla and folded into an easy to eat pocket $3.00
Mini BLT Wrap - Crispy bacon, romaine lettuce, tomatoes and mayo $3.50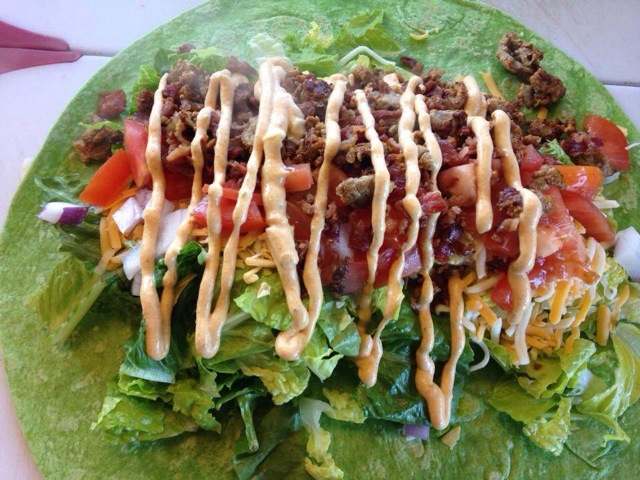 Rip City Wrap.$7.75. Blackend steak, crispy bacon, romaine, tomatoes, onions, cheddar/jack cheese , and Cajun aioli